Projector Blog : How to watch television on a projector
Set Top Box
Whilst traditionally projectors have been used for watching movies and for business presentations they are amazing to watch sport or your favourite TV show too. Projectors generally do not feature TV Tuners inbuilt so in order to view your local TV broadcast you can connect a device called a Set Top Box.
The most common way to view TV broadcast on the big screen is to grab an inexpensive Set Top Box (available at most electrical retailers). Some Set Top Boxes will even allow you to record your favourite TV shows to a hard drive. The Set Top Box will have an aerial port on the back that you can connect to your household aerial. You can then run a HDMI cable to a Receiver (which will distribute the audio to the speakers and the video to the projector) or connect the box directly into your projector.
A Set Top Box gives the more traditional features of a TV, most will come with a remote control so you can easily change channel when required.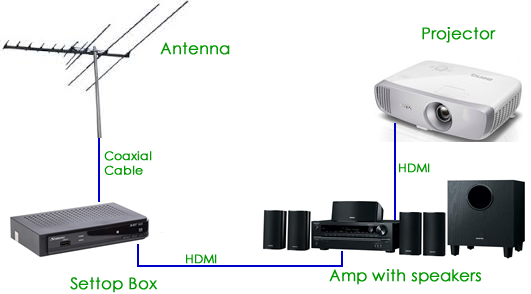 Using a streaming device
A more modern way of viewing free-to-air TV broadcast is by internet streaming. Many devices now include the apps for the major TV stations that allow you to view live TV or stream certain shows 'On Demand'. Devices like a new Xbox, GoogleTV, AppleTV, Amazon FireTVStick, and even a Chromecast paired with a phone will give you access to these apps. The most common TV apps are 7Plus, ABC iView, 9Now, 10Play, and SBS On Demand.
A big advantage of using streaming rather than normal broadcast is you don't need to use an aerial and don't need a set top box. If you have high speed internet you can sometimes receive a better quality picture than normal broadcast and you get a wider range of shows available to watch. If you have internet problems you may have trouble getting the streaming to function correctly and using streaming will use up any internet download limit you may have on your plan. 'Changing channels' using the apps is going to be a slower process too as you will need to close one app and open another rather than just press a button like you can on a set top box.