Projector Blog : Outdoor Projectors
Backyard outdoor projection for a movie night and sport
Projecting outdoors is a great way to get the whole family together to watch a movie on the big screen. Increasingly popular for watching the footy finals and big sporting events or just movies with kids while toasting some marshmallows. Backyard movies can range in scale from a small gathering to the whole extended family. There are some things to consider to get the best out of your outdoor experience.
Brightness
No projector can compete with the power of the Sun so it's always best to wait for twilight before you begin. Keeping the image size small and/or using a brighter projector will enable you to use the projector earlier in the evening and assist in keeping the image as vibrant as possible. For most small backyard set ups we suggest using a projector with at least 4000 ANSI Lumens brightness however if you want a very large image it is recommended to go brighter.
Installation Distance
Installation Distance (also called Throw Distance) is simpy the distance the projector must be from the screen. Every projector has a certain distance back it must be, this distance is calculated using the advertised Throw Ratio. For many projectors on the Just Projectors website there is a throw distance chart that displays the required throw distance for some popular image/screen sizes. If you are fairly flexible with where the projector can sit then you won't need to worry too much about the Throw ratio however if you have a more unique requirement then it definitely should not be overlooked. Some clients, for example, like the idea of projecting over their backyard pool. Whilst this is possible if the distance is quite far (ie 8+ metres), it is likely most mainstream projectors will not work... you would need to consider a higher-end projector that has long-throw lens attachments available.
Resolution
Most modern projectors will use a widescreen resolution, making them for more suitable for entertainment purposes than the older models. For entertainment we always recommend a projector with a FULL HD (1080p) or a 4K/UHD resolution. These higher resolutions ensure a sharp and detailed image. At time of writing most FULL HD projectors start in price close to $900-1000.
Media Player / Input
Most projectors operate similar to a computer monitor, in that by itself it won't be able to display anything... you need to plug in a player of some kind in order to display your media. Some clients simply plug their laptop or tablet straight into the projector, or even a dvd player of Foxtel box. If you want to stream your favourite app such as Netflix, Stan, Disney+ etc you can run these from a computer or use a 3rd party streaming media player such as GoogleTV, AppleTV, Amazon FireTVStick. Many modern game consoles like Xbox and PS5 also feature inbuilt apps. To use these apps you will need wifi access and a subscription with the app. You might have to add on an audio extractor to get the audio to a speaker.
Audio
Projectors usually feature an inbuilt speaker, they tend to range from a basic 1 watt in power up to 10 watts. A 10 watt speaker is normally powerful enough for small enclosed areas however for outdoor environments it is recommended to use a separate, more power, speaker. For basic outdoor set ups a 'party speaker' or soundbar will often surfice. Sony and JBL have some party speakers that feature a 3.5mm audio input to connect to a projector. Alternatively Just Projectors carries the Denon and Polk range of soundbars. It is best to connect your speaker directly to your player, rather than through the projector. This ensures there is no audio delay and the audio quality is as high as possible. In the even this is not possible many projectors will feature a 3.5mm audio out jack you can use.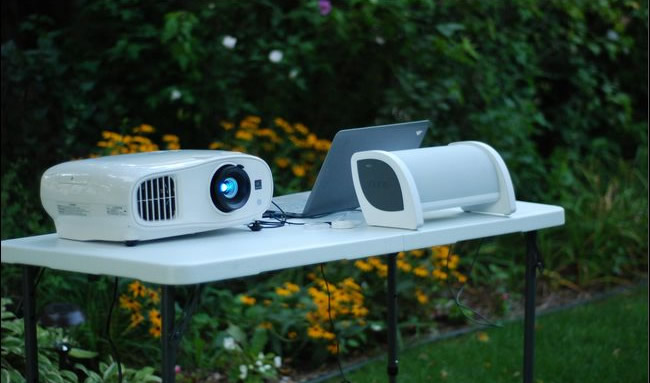 Weather and Bugs
Projectors need significant air flow for cooling so are not water resisitant or water proof. It is recommended to keep projectors well protected from the elements at all times. Ideally when you are not using the projector it should be stored indoors, however if you need to permanately install the projector outdoors you should cover it when not being used. After a projector has been used it can make for a nice warm home for insects and animals like Geckos. We have actually seen projectors returned to find a gecko has made a home inside and damaged the unit. Unfortunately the brands don't provide a Gecko warranty so always best to cover the projector up when not in use (a simple bag around the unit is usually enough).
Screen
Many clients are happy projecting up on a wall or fence, this can give you decent results however a proper projector screen will always get you the best picture quality. There is a wide variety of portable screens that can be quickly set up. Elite screens has some fast fold screens that can be erected in a yard that also feature tie down ropes so can withstand a breeze. Of course with a big wind it would act like a sail so best to have a look at the forecast. A good value option is to use a pull down screen, these are not self standing so would need to be hung off a wall or ceiling however tend to cost less then a portable unit.
Check out our Outdoor Cinema Buyers Guide for more information and recommendations.